Solutions for Chassis and Auxiliary Drives in Passenger Cars and Commercial Vehicles
Today, our solutions for chassis applications go far beyond mere bearings – we have reengineered them to the point that they are now complete mechatronic systems with sophisticated technology ranging from integrated sensors for capturing data, to electromechanical actuators for active chassis applications. While our focus is on increased safety and comfort, our products also meet the demands for cost-effectiveness. With the aid of our solutions, truck operators can achieve a significant reduction in TCO (Total Cost of Ownership). Our product portfolio is rounded out by bearings for accessory units and special applications for commercial vehicles.
PASSENGER CARS
Components and Systems for Chassis and Accessory Units in Passenger Cars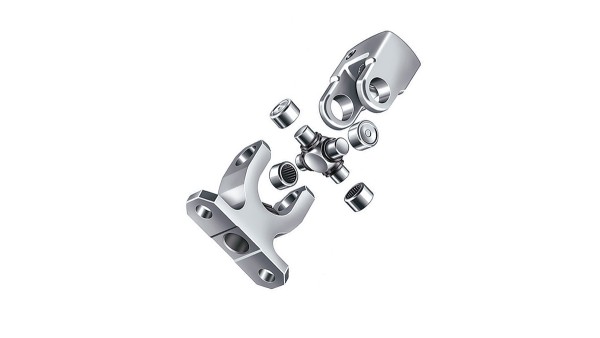 Bearings for the Chassis
Sophisticated solutions: Our bearing solutions for the chassis are fully engineered – from design through production to assembly. Our drawn and hardened universal joint bearings, for example, are designed to transfer torques in steering shafts and driveshafts with zero backlash. Compared with conventionally-manufactured products, they offer significantly higher load carrying capacity. To optimize running smoothness, we have even developed special assembly techniques along with the corresponding machines.
Products:
Strut bearings
Spring seat bearings
Universal joint bearings (IPH fitting method)
Tripod rollers
Bearings and Components for the Steering Column
Precise and comfortable steering: The steering not only controls the vehicle's direction, but it also communicates driving "feel" and comfort directly to the driver, while also contributing significantly to driver safety. Here, the bearing support inside the steering column plays a crucial role. Our extensive R&D work on bearings and components for the steering column has resulted in greater protection for the driver in crash situations, improved steering comfort and reduced vibrations in the steering column.
Products:
Steering column bearings
Clamping device
Linear bearings/displacement bearings
Power steering pump bearings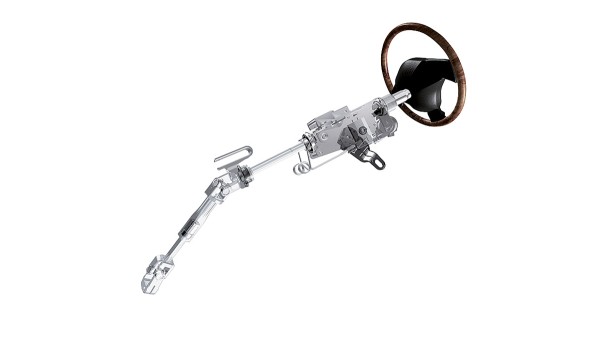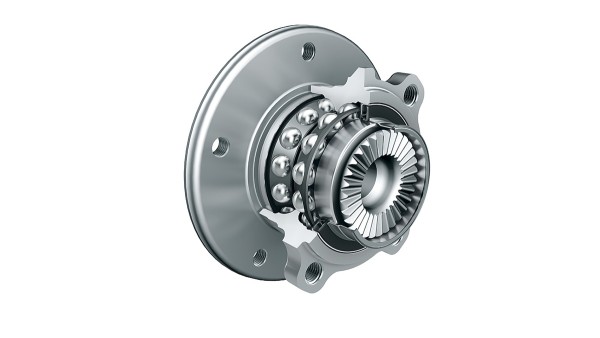 Wheel Bearings
Our innovative solutions for maintenance-free wheel bearings range from compact bearing units to highly-integrated assemblies that incorporate the wheel carrier.
Built-in sensors supply data used for controlling ABS and ESP, as well as for active driving dynamics control. Wheel forces can be measured continuously.
For wheel bearings in vans, SUVs and light trucks, we have developed a special four-row angular contact ball bearing that can replace conventional tapered roller bearings and significantly reduces fuel consumption and emissions. The innovative wheel bearing with face splines offers capacity reserves in addition to weight reduction, optimized installation and longer service life.
Products:
Wheel bearings
Wheel modules
Four-row angular contact ball bearings (Twin Tandem)
Electromechanical Actuators
Ingenious technology for active chassis applications: Our mechanical ball screw drive actuators can be used in numerous innovative automotive chassis applications, for example, in electromechanical steering systems. Offering greater comfort, lower costs and reduced fuel consumption, these systems can replace conventional hydraulic power steering systems. Other application examples include mechatronic active roll control systems and brake applications, as well as active chassis-adjustment systems for ride-height leveling, or for track and camber adjustment.
Products:
Mechatronic active roll control
Ball screw drives
Electromechanical steering systems
Ride-height leveling systems
Track and camber adjustment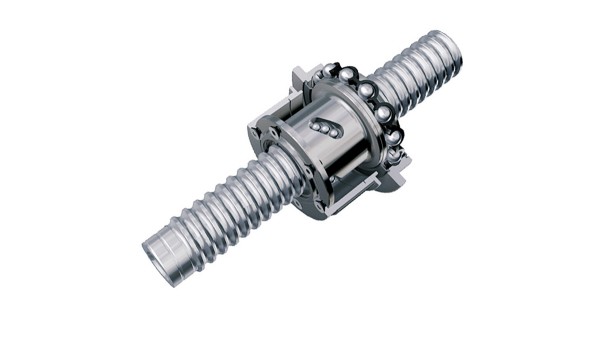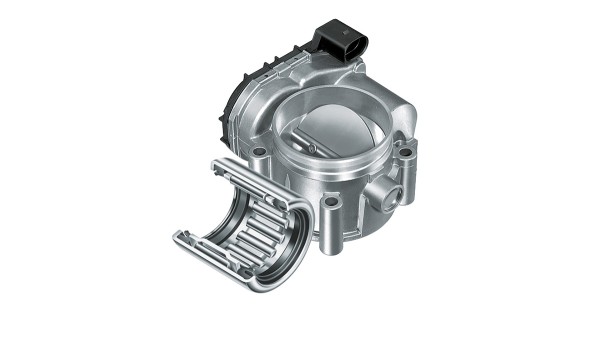 Applications for Commercial Vehicles
Safety and durability: Schaeffler continuously develops innovative solutions for rolling bearing supports in crankshafts, camshafts and balancer shafts that offer considerable potential for reducing power losses in the engine, and, therefore, improved fuel economy and lower emissions. Balancer shafts with rolling bearing supports generate approximately 50 % less friction compared with shafts supported by plain bearings. Schaeffler has also succeeded in developing an optimized design for balancer shafts that is up to 40 % lighter with no performance losses.
Products:
Rolling bearing supports for balancer shafts
Balancer shafts with optimized mass
Rolling bearing supports for camshafts
Rolling bearing supports for crankshafts
Rolling bearing supports for turbochargers
Space Drive
Space Drive II is a digitally coordinated driving and steering system consisting of hardware and software components. Individually adaptable to a wide variety of safety-relevant applications in the drive-by-wire industry, for example in the autonomous / semi-autonomous control of vehicles. Space Drive is a three-stage multi-redundant motor driver and control system for all standard electric motors (60 A / DC 12-24 V) in applications with the highest safety requirements. Depending on the area of application, the system is subcomponents can be customized with specially adapted software modules. All components are street legal according to ECE-R10, ECE-R-13 and ECE-R-79, a key certifications and foundations for autonomous driving.
Components:
SD Main module with triple redundancy
Customized software package
Servo motors for steering, gas and brake
Plug and play wiring harnesses
Check control touch display
Optional input devices such as force feedback and joysticks
Back-up battery
Learn more about our Drive-by-Wire Solutions.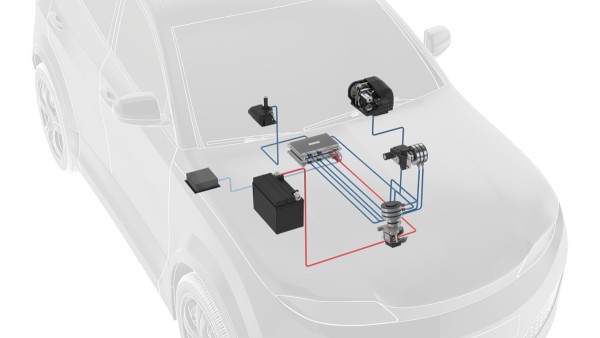 COMMERCIAL VEHICLES
Components and Systems for Chassis and Accessory Units in Commercial Vehicles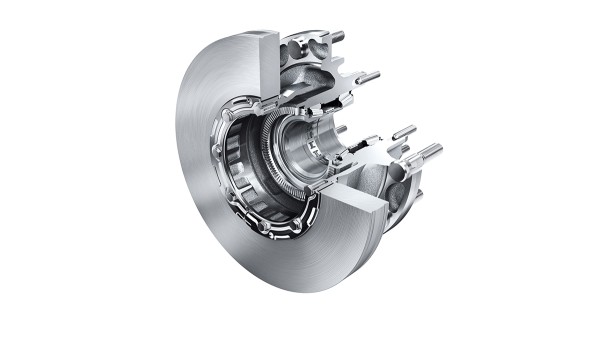 Wheel Bearing Applications
Innovative wheel bearing solutions: Insert wheel bearing units form the basis for maintenance-free commercial vehicle wheel bearing supports. Due to the hub collar, even high lateral forces occurring during cornering are securely supported by the bearing. Mounting without setting work and the clamping of the inner rings against a stop lead to a highly rigid wheel head with precise wheel guidance. High-performance greases and the highly efficient sealing system ensure problem-free usage for the whole life of the vehicle. New, customer-specific special solutions with a special combination of material and heat treatment give a further increase in performance capability. Together with a revised, low-friction sealing system, these have become our "X-life plus" design. Both fuel consumption and emissions have been reduced as a result.
Products:
Tapered roller bearings
Insert tapered roller bearing units
Single bearing unit
Truck axle module
Hub unit offset design
Pinion and Differential Bearings
Top performance through flexibility: Due to special heat treatment, our pinion and differential bearings have a high deformation capability of the raceway surface. If local overload damage occurs, for example through overrolling of foreign particles in the unfiltered axle drive oil, this allows "self-healing" and thus a long service life. Special designs combine "low friction" and "maximum performance" in our "X-life plus" design.
Products:
Pinion bearings
Crown wheel bearings
Semi-locating pinion bearings (full complement)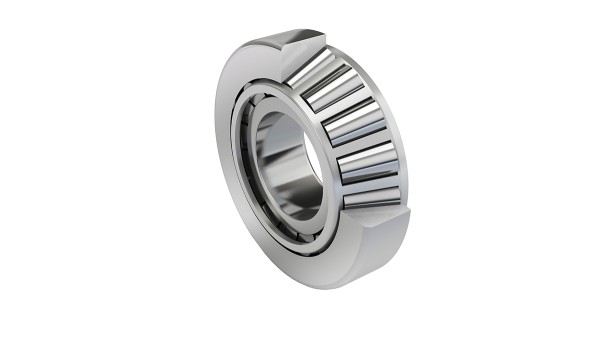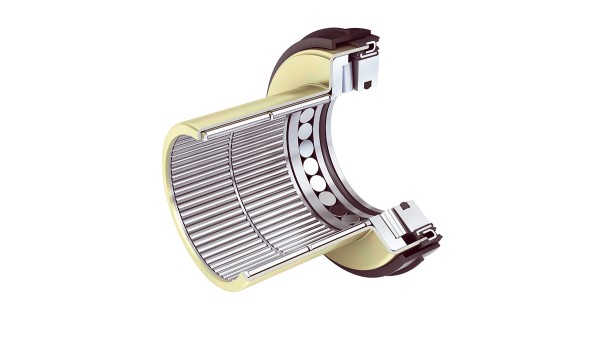 Kingpin Bearing Support
First class features: Our kingpin bearing supports combine the best characteristics of axial and radial bearings and are used not only in trucks but also in conveying equipment and agricultural machinery. They are solid, resilient and protected against contamination and moisture by a particular high-quality grease.
Products:
Kingpin bearing support
Axial cylindrical roller bearings
Needle roller bearings
Drawn cup needle roller bearings with open ends
Thrust washer
Components for Brake Applications
Compact and precise: Brake applications from Schaeffler are used in the components of well-known truck suppliers. One example is our brake adjusters for truck disk brakes: A compact design, engagement accuracy and greasing for life makes them a reliable teammate in the vehicle. Schaeffler also supplies special products such as cold formed half-shell bearings that can withstand high static loads.
Products:
Half-shell bearings for truck disk brakes
Axial needle roller bearings
ABS sensor ring
Brake adjusters
Sleeves
Axial washers
Axial ball/needle roller cage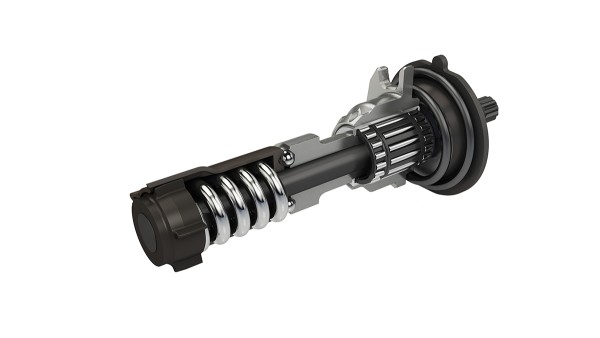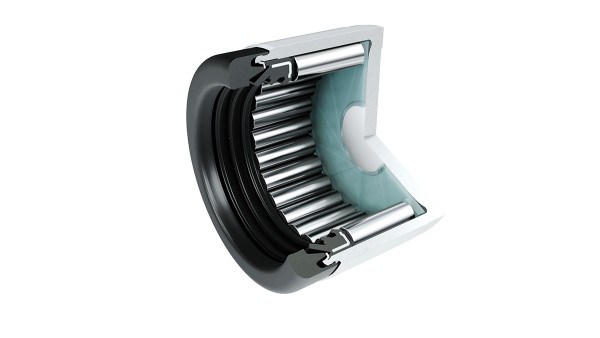 Components for Drive Shafts
Safety in all sizes: Cardanic shafts for trucks are subject to heavy loads and best perform their function with our universal joint bearings. These maintenance-free components are in use in their millions worldwide. One reason is that their seal package is extremely reliable and another is that, in addition to the sizes offered, special versions can be produced. The product range is enormous.
Products:
Universal joint bearings BBUA / BBUB / BU
Semi-locating bearings for drive shafts
Auxiliary Drives and Interior Equipment
The right bearing solution for every requirement: Auxiliary drives are decisively influenced by conventional assessment criteria such as power, torque, mass, consumption and cost-effectiveness. On the basis of these requirements, Schaeffler works in close partnership with customers to develop and manufacture bearing components for auxiliary drive applications such as starters, airconditioning compressors and throttle valves as well as braking and steering systems. Due to Schaeffler's many years of experience and expertise, it can often respond at very short notice to a wide range of customer specifications.
Products:
Deep groove ball bearings
Four point contact ball bearings
Angular contact ball bearings
Needle roller bearings
Axial bearings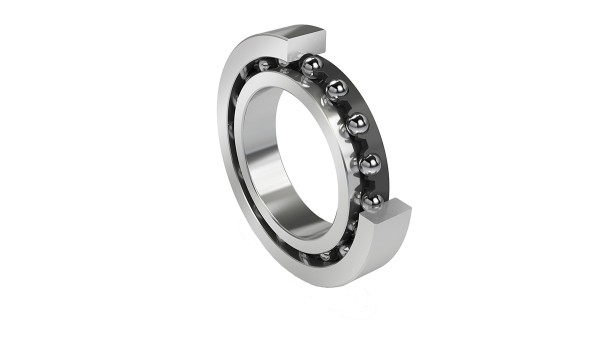 Dela sida